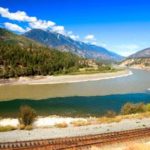 A Disaster Mitigation Project on the Risks of Flood, Landslide and Debris Flows
The Fraser Basin Council (FBC), the project managers for this work, have provided SWOA with a brief description of the project which we have posted on our website. It is also going to posted at www.thompsonflood.ca soon.
FBC have also indicated that BGC Engineering Inc. was awarded the risk assessment work following a public tendering process. There are no public meetings planned for this risk assessment phase. When BGC Engineering has completed their project reports, the FBC has indicated that summaries of the risk assessment and maps will be posted on the website.