July 2, 2020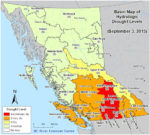 As first reported in our June 27 update, the Provincial River Forecast Centre has maintained the Flood Watch advisory for the South Thompson watershed. The Centre defines a Flood Watch as follows:
River levels are rising and will approach or may exceed bankfull. Flooding of areas adjacent to affected rivers may occur.
The River Forecast Centre have also maintained a High Streamflow Advisory for the tributaries to the South Thompson River including Shuswap River, Shuswap Lake and Adams River. (A high streamflow advisory is defined as – River levels are rising or are expected to rise rapidly, but no major flooding is expected. Minor flooding in low lying areas is possible.)
Monitoring of the recent River Forecast Centre predictions and observed lake levels have all indicated the slow decrease in the lake level over the past few days. However, the Forecast Centre information has consistently indicated that we can expect Shuswap Lake levels to increase by approximately 0.2 m between July 2nd and July 4th or 5th before lake levels again start to slowly decrease. As the high elevation snowpack continues to decrease steadily the wildcard in the predictions will be in how much rain we continue to receive over the next week. With generally drier weather forecast for next week, hopefully the predictions hold and we are nearing the end of the spring freshet runoff.
SWOA will continue to monitor the predictions from the River Forecast Centre as they are released over the next week and will provide an update if there is a change in the forecasted lake levels.